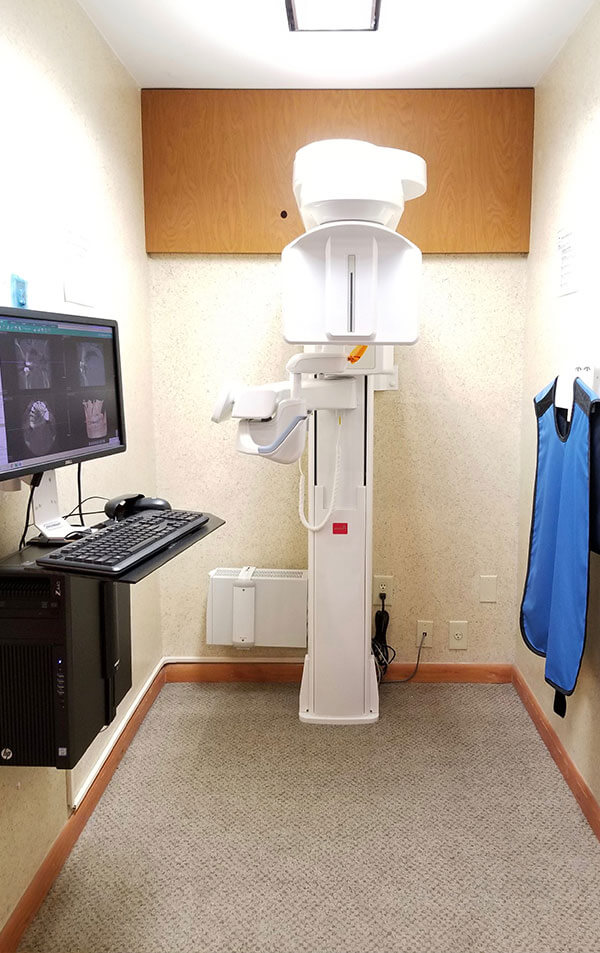 ---
3D Technology is state of the art, cutting edge tech that can help our patients, while providing us with the most complete view of your mouth.
Cone Beam technology provides a 3D digital tomographic view of the patient's area of interest. While a traditional x-ray is only two-dimensional, with Cone Beam systems, our doctors are able to get a full 360 degree view of the tooth and all surrounding areas.
The 3D Cone Beam scanner provides nearly limitless views of the teeth while using less radiation than traditional medical CT technology. It's good for diagnosis and evaluation, and it's good for your health, too. It is one of the most significant medical diagnostic capabilities to emerge in recent years.
Your doctor may use this technology to produce three dimensional (3-D) images of your teeth, soft tissues, nerve pathways and bone – all in a single scan.
This new technology is fast, simple and painless, providing many wonderful benefits that were unavailable until very recently.
The system allows us to monitor growth and diagnose problems, and view your entire mouth from every conceivable angle — all in less than 20 seconds.
Then, once these images are made, the computer processes the image data to come up with an accurate virtual model of the specific area requiring visualization.
---
Frequently Asked Questions About 3D Technology
---
Is 3D Technology used for dental crowns, as well as imaging?
---
It is, but in a different way.  Choosing to have a crown placed can preserve the natural tooth, or replace a missing tooth. The goal is always to preserve natural teeth and support bone structure. 3D technology allows us to mill dental crowns right in our office, by using CAD/CAM technology for precision and high quality.
Your dental team will make an impression that will be used to make a model of the teeth and bite, so that your crown will be made to look and function like your natural tooth. The tooth is then prepped, with any decay removed, and an impression of the prepped tooth is made to assure the crown will fit properly once placed.
Sometimes the final crown can be placed the same day but at other times a temporary crown will be placed while your final restoration is being created.
---
Is it true that cone beam technology is safer than regular x rays?
---
Cone beam technology is a terrific breakthrough in dental analysis for a number of reasons, including safety. These include:
Enhanced understanding of patients.

Lower radiation

A variety of applications.

Faster scan time

Simpler to use

More comfortable experience for patients
---
How is Cone Beam Technology more comfortable for me?
---
Besides offering your dentist the ability to see the detailed structure of your mouth with precision, it also shortens the time you'll spend being assessed and treatment time, as well as increasing best outcomes. Your dentist is also able to view a complete three-dimensional image that can be rotated in all directions: up and down and also from side to side. Plus, it also allows your dentist to see the 3D model in greater or less detail, as best suits diagnosis.