Teeth Whitening in Pomona & Brooklyn
---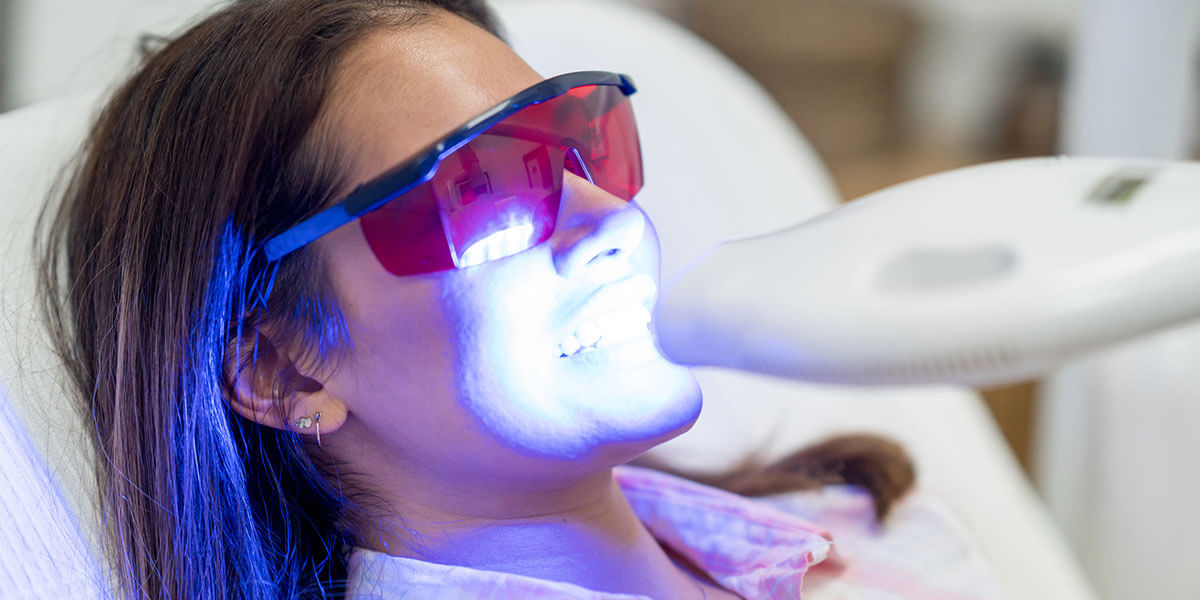 ---
A & R Advanced Dental Group provides teeth whitening services in Pomona and Brooklyn. Call us at one of our two locations to learn more and schedule your appointment.
We offer a professional teeth whitening system called Sinsational Smile at our dental practice. This system is consistently voted the best in-office teeth whitening system in the country and patients love its simplicity, speed, and impressive results. Here's what makes Sinsational Smile different from other in-office teeth whitening treatments:
Decreased tooth sensitivity compared to traditional bleaching—98.1% of patients report experiencing zero sensitivity or pain

Whitening requires only one minute of prep and 20 minutes of treatment

Sinsational Smile is the first whitening system to achieve eco-friendly certification

The pre-filled flexible silicone trays are comfortable, allowing the jaw to remain relaxed during treatment

An LED light activates the whitening gel to accelerate treatment

A take-home maintenance pen offers a simple way to extend your results

Sinsational Smile provides all of this at a lower price than alternative whitening treatments
Sinsational Smile allows you to achieve a smile that's 2–5 shades lighter in a single appointment. You'll leave our office smiling brighter and feeling more confident.
---
Frequently Asked Questions About Teeth Whitening
---
What is the best whitener for your teeth?
---
There are many teeth whitening options these days, but some are better than others. If you're looking for the best overall teeth whitening treatment, nothing can top in-office whitening systems like Sinsational Smile. These systems are made with stronger whitening gels than those available over-the-counter, which means you'll get more dramatic results in a shorter amount of time. For store-bought teeth whitening treatments you can do yourself at home, always look for the ADA seal on the packaging—while the results aren't as impressive in-office treatments, you can be assured that any product approved by the American Dental Association is safe and effective.
---
How much does it cost to get your teeth professionally whitened?
---
Sinsational Smile is an affordable professional teeth whitening system.
---
Is teeth whitening bad for your teeth?
---
When performed by a dentist, teeth whitening is not bad for your teeth. The overuse of home teeth whitening treatments can cause damage to the enamel, but this isn't an issue when you see your dentist for whitening. Some whitening systems cause tooth sensitivity, which isn't necessarily damage, but it can be quite painful. We like Sinsational Smile because it doesn't cause sensitivity.
---
Does insurance pay for teeth whitening?
---
Teeth whitening is considered a cosmetic dental treatment, so it is not covered by dental insurance.
---
How long does it take to whiten teeth?
---
If you are using store-bought whitening treatments, it typically takes several weeks to see any noticeable improvement. With the Sinsational Smile system, you'll get results in a single 20-minute appointment.
Call us today to schedule your appointment.
---
Back to Cosmetic Dentistry
---